The Digital Humanities Center, located in the Milstein Center for Teaching and Learning, is committed to nurturing a creative and collaborative community of inquiry. In an effort to do so, the Center has crafted a unique approach to supporting digital pedagogy, methodology, and projects. The DHC connects with both the Barnard Library and other Milstein Centers. We work closely with faculty to provide support for the humanities curriculum at Barnard and with students to support their coursework, thesis projects and independent research. While open lab hours and project consultations are part of what the DHC offers, our primary service model is to work closely with courses across departments. We served an increasing number of courses from one semester to the next this year and have a plan for further increasing faculty participation through a series of workshops for faculty new to digital research and teaching.  This year we also hosted a series of public events aimed at creating a broadly inclusive community. The DHC has adopted a holistic approach, centered on accessibility and geared toward welcoming a diverse range of thinkers from across disciplines. In an effort to move towards that goal, the center actively confronts the reality that work created by scholars who hold marginalized identities is often less likely to secure broad institutional support. As such, the following sections will illustrate how the center has nurtured an inclusive and engaging space in which work and voices of marginalized peoples are prioritized, along with the themes of race, gender, education, human rights and privacy as its primary focus.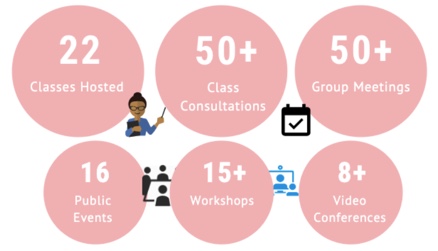 The Digital Humanities Center at Barnard represents the crystallization of vigorous activity in the Digital Humanities over the last several years. The Committee on Online and On-Campus Learning (COOL), established in 2012, developed an approach that emphasized connecting digital scholarship to teaching and research with the extraordinary education offered on campus at Barnard. For example, the unique possibilities offered by undertaking digital projects specifically in New York City were explored in a COOL Pilot Project led by Laurie Postlewate of the French Department, which connected digital renderings of the gardens at Versaille with the work of the New York Baroque Dance Company to show how aesthetic meanings moved across the visual productions in both dance and design.
The Digital Shange Project, another of the initial COOL projects, demonstrates the range of possibilities offered by digital scholarship. The project is a collaboration among Professor Kim F. Hall of Africana Studies and English, the Barnard Archives, and the Barnard Center for Research on Women. This project vividly demonstrates the possibilities of Digital Humanities at Barnard: the connections for the students between faculty research and student learning, on-campus and in-person connections with major figures, and online engagement with worldwide scholarly production.

In Fall 2018, the Digital Humanities Center added another building block to the "Digital Shange" project, working closely with Professor Hall in support of her course "The Worlds of Ntozake Shange." The DHC supported the creation of an exciting new digital assignment. Students worked on a digital book on Scalar, an open source platform they learned to use in the Digital Humanities Center. Students wrote blog posts, visual essays, annotated, and commented on each others' work. Similarly, the Center engaged with Art and Art History Professor Elizabeth Hutchinson in designing a digital assignment for her North American Art and Culture course. As an assignment, students were asked to visit the new Art of Native America Collection at the Metropolitan Museum of Art and collect photographs of works to which they were drawn. These photos were uploaded to the class Scalar book the students learned to use in the Digital Humanities Center, and published with blog entries dedicated to the work and their interpretations.
Janet Jakobsen and Rebecca-Jordan Young collaborated with the Digital Humanities Center and required students to create and present a digital project as their course final. Madiha Choksi instructed two workshops in which she introduced the Center, identified the tools supported by the Center: text analysis, visual analysis, network analysis and spatial analysis. She critically engaged with each method and provided examples students on the basis of which students could build their projects.
By the Spring semester, the Digital Humanities Center extended its services to a total of 8 courses across a range of departments. For Professors Holly Myers, Janet Jakobsen, and Elizabeth Bernstein's courses listed below, Madiha led workshops to introduce students to the Digital Humanities more broadly, and supported individual students in the creation and publication of a digital humanities final project.
Both Professor Alex Pittman and Ted Perlmutter created digital books on the ever-popular Scalar platform for their final projects. In Pittman's Feminist Theory, the class worked on creating a public facing digital book of keywords in feminist theory. In groups, these terms were critically assessed, and annotated by the students. With Madiha's help and weekly support, Professor Perlmutter transitioned his blog-based course project from Google Sites onto Scalar. The elaborate Social Media and Human Rights digital publication has a total of over 400 pages, 50 paths or routes a reader can follow, 73 tags or themes, and over 150 comments from Professor Perlmutter and the course's 19 students.
The Digital Humanities Center also spent Spring 2019 collaborating with Professor Abosede George and the Empirical Reasoning Center to create a series of workshops to support the course's spatial mapping project. The course titled Mapping the Ekopolitan Project: A Spatial Approach to Pan-African Circulations which will now be offered in Fall 2019. Finally, the center worked with personal librarian Charlotte Price in reimagining an accessible digital course site and project for Gale Archer's Introduction to Music course.