Digital Humanities provides an essential understanding of the ways that technology can expand the scope of research, teaching and public engagement in the humanities: accommodating data, combining disciplines, connecting thinkers, and democratizing thought in capacious ways. For a sense of the expansive possibilities enabled by digital technologies, please peruse our list of sample projects.
The Worlds of Ntozake Shange
The Worlds of Ntozake Shange is a collection of student projects emerging from a two-semester Barnard course. Drawing upon the works of poet, playwright, and Barnard graduate Ntozake Shange, the Barnard Archives' Shange collection, the archives at the International Center of Photography and the Schomburg Center for Research in Black Culture, and their own personal and creative drives students created projects that respond to and refashion the work and critical concerns of Shange and the Black Arts Movement as a whole.
Creators: Kim Hall, the students of The Worlds of Ntozake Shange, Fall 2015-Winter 2016 (Danielle Fox, Nicole Hines, Dania Lewis, Mei Suet Loo, Melissa Louidor, Nadia Mbonde, Kiani Ned, Oluwayemisi Olorunwunmi, Amanda Perry, Sophia Richards, Gabrielle Smith, Clarke Wheeler)
Tools: video, audio, image hosting, archives
The View from Ginling
is an ongoing project to digitize and present via student-created online exhibits the papers of Matilda Calder Thurston (1875-1958), a missionary and graduate of Mount Holyoke College who in 1915 founded Ginling College, women's college in Nanjing. The View from Ginling uses digital tools to tell Ginling's story, a story of political upheaval in early 20th century China, and to transform and decolonize the archive and the traditional missionary narrative.
Creators: Gale Kenny, the students of Religion in the Archive Spring 2018 (Athena Abadilla, Kristen Akey, Sarah Ambrose, Sarah Barlow-Ochshorn, Sarah Broniscer, Juliana Clark, Jessica Cruz, Elayna Gleaton, Nina Havivi, Ariella Napoli, Alice Noah, Willa Smith, Helyn Steppa, Angela Xia), site designer/technologist Corey Tegeler
Tools: knightlab timelines, interactive maps, network visualizations, Omeka, archives
The Golden Age of Versailles: From Parquet to Parterre
"From Parquet to Parterre"
is a video lecture that explores the relationship between the highly ordered geometric forms of Baroque social dance and the correspondingly geometrical garden designs of the same period. Augmenting Ms. Turocy's lecture on dance and garden design at Versailles and the philosophical, moral, and social functions of both art forms in 17th/18th century France are demonstrations by both professional dancers of her company and student dancers from Barnard, as well as visual juxtapositions of Versailles' dances with its gardens.  
Creators: Laurie Postlewate, Catherine Turocy (artistic director of NY Baroque Dance Company), members of the New York Baroque Dance Company, Barnard student dancers
Tools: video editing, archivess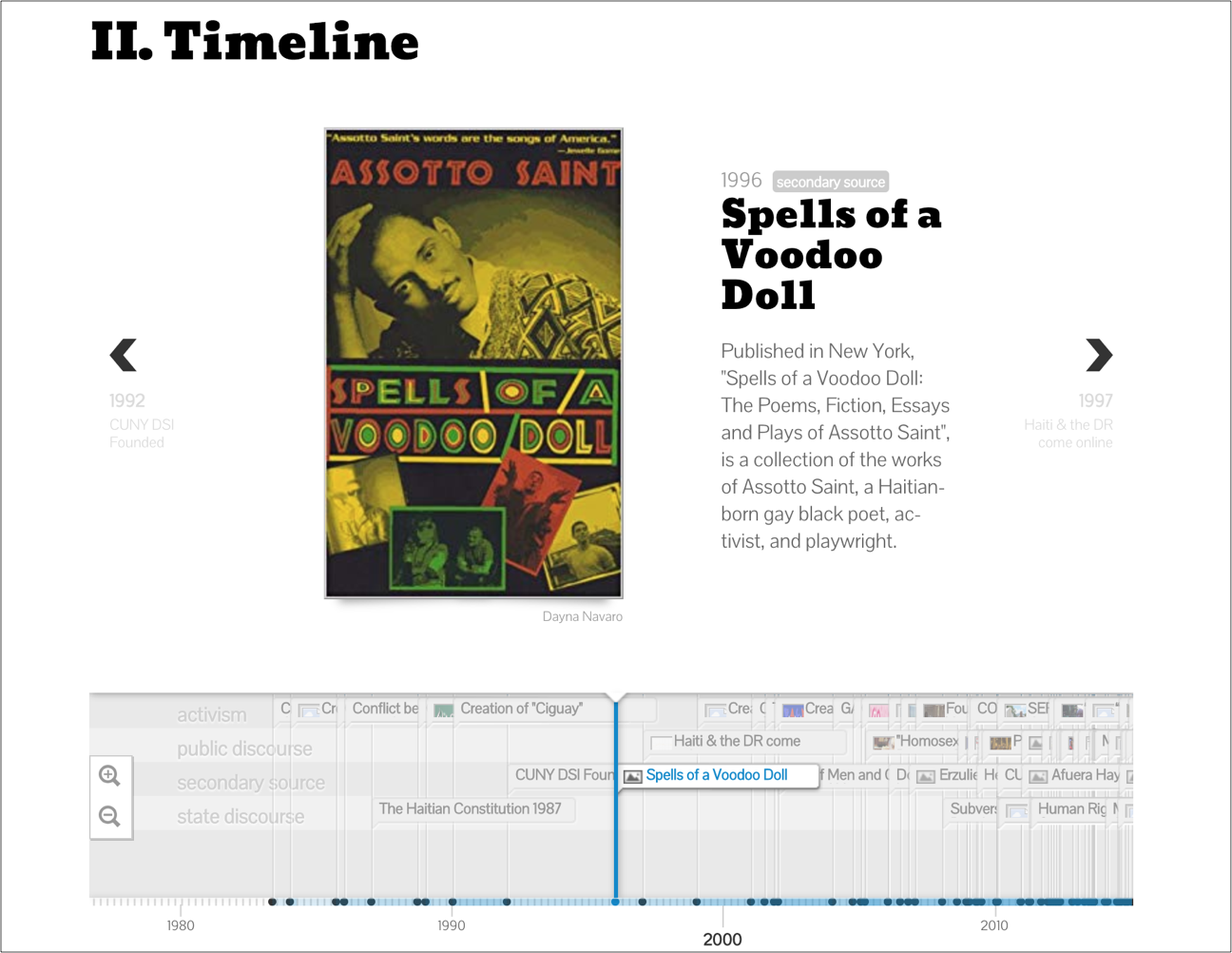 "Queering Hispaniola"
was produced by students of Professors Glover and Horn's Spring 2015
Transnational Hispaniola colloquium
for Africana Studies. The project investigates and creates a timeline of activism, public opinion, state discourse, and secondary literature on queer and non-normative sexualities and gender identities in Haiti and the Dominican Republic, creating, historicizing, and analyzing a dialogue between heteronormative, hegemonic forces on the island of Hispaniola and the LGBTIQ voices responding and reacting.  
Creators: Kaiama Glover; Maja Horn; Zachary Etheart, Karina Jougla, Salma Nakhlawi & Nichelle Watkins (students), Alex Gil (Columbia digital studies coordinator)
Tools: knightlab timeline