Hi DH fans! Do you remember a few weeks ago, when I looked at ArcGIS for mapping? And then a few weeks before that, when I looked at TimelineJS for making timelines? Well, what if you could do both...at the same time? 
Thanks to
TimeMapper, from Open Knowledge Labs
, you can! TimeMapper is a tool that is quite like TimelineJS, in that it uses a google sheets spreadsheet to build a timeline. The difference is, this spreadsheet has slots for geographical coordinates, so as you add entries to your timeline, you're also adding points on a map, which are then displayed side-by-side. 
As an example of the sort of project that could benefit from a tool like this, I'm going to return to the topic of opera seasons (I'm sure none of you got enough last time!). If you're interested in critically examining a canon like the one found in mainstream opera performance, it should be pretty obvious why a timeline/map combo might be useful as a way of quickly and elegantly visualizing when and where these operas are from. 
For my spreadsheet, I decided to use the date of premier for each work and the coordinates of the city where the work was premiered. Sometimes this latter category can be a little surprising -- did you know that Puccini's 
La Fanciulla del West
 was premiered in New York City, and that Verdi's 
Aida
 premeired in Cairo? You can have a look at the spreadsheet I built
here
 -- it's quite bare bones, as you will see, but the options are there to add images and all sorts of media (I couldn't help myself, I added some media from the operas in question). 
From there, it's as simple as publishing the spreadsheet, plugging the link into the site, and
check it out!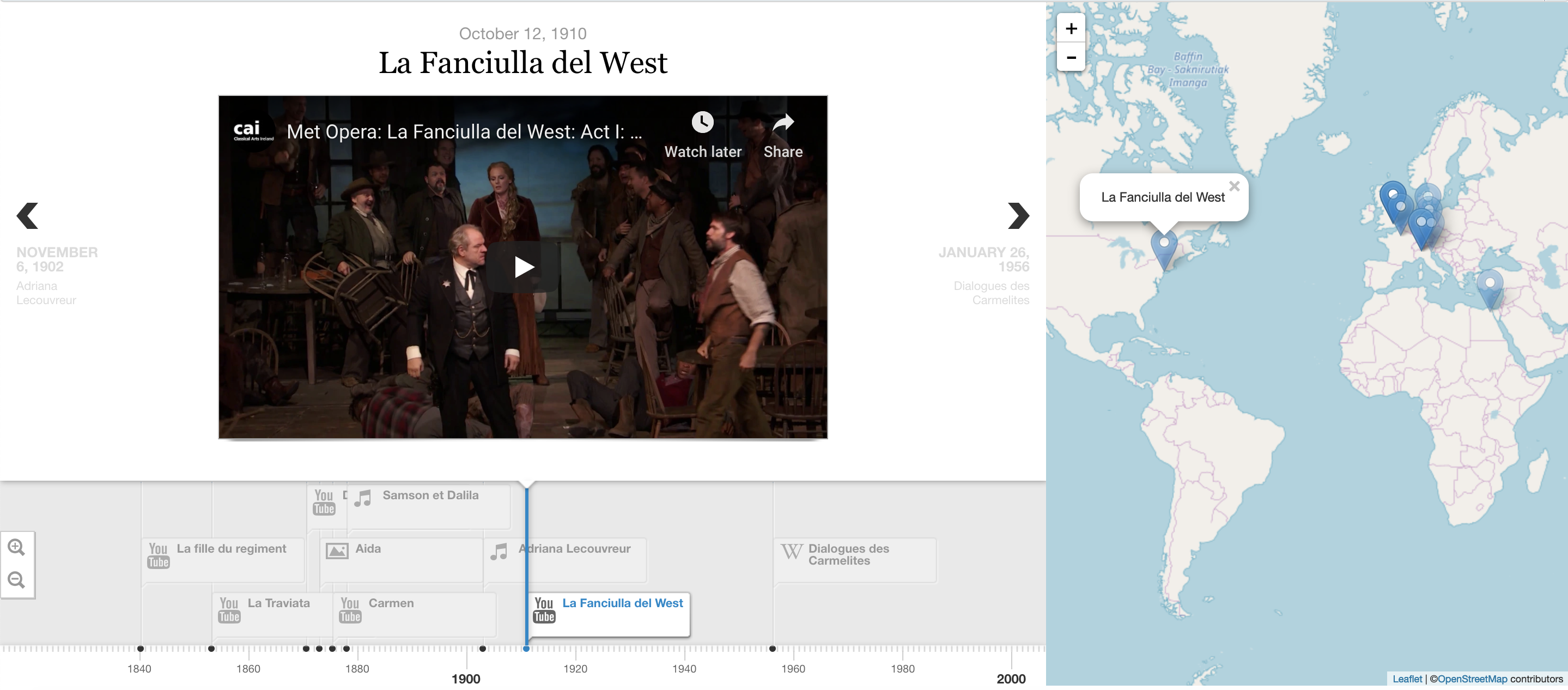 This is what it looks like -- click the link above to actually explore/interact!
The result is a timeline and a map, side by side in an easy to digest form, with the option to add media of all sorts. For my project, it's an immediately visual representation of the Eurocentricity and the 19th-century-centricity of the operatic season!