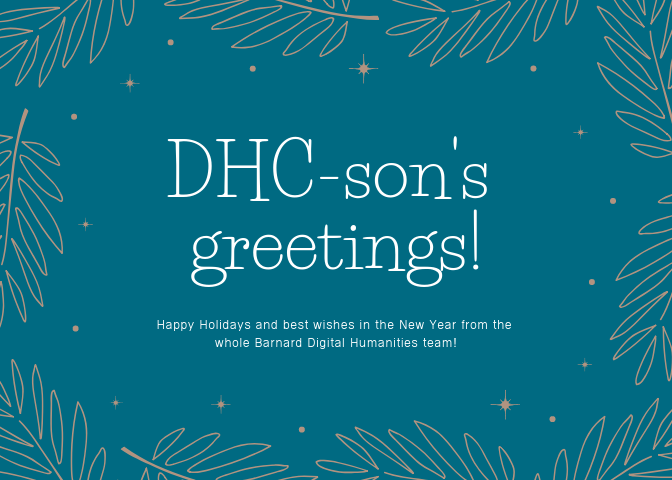 It's finals week here at Barnard, and as students look back at their semesters for exams, we're taking a look back at ours at the DHC - and what a semester! At the grand opening of the Milstein Center for Teaching and Learning, we got to meet and chat with so many students, alumnae, and members of the Barnard community about the Digital Humanities at Barnard! One of my favorite things about the grand opening was getting to showcase past Barnard DH projects to Barnard alumnae who majored in the humanities, and talking with them about how humanities study is both different and the same in the era of digital platforms and methodologies. A particular favorite of the many Art History alumnae who stopped by for the opening was the Parquet to Parterre video lecture (Catherine Turocy and Barnard College, 2015), which illustrates the relationship between the gardens and the court dances at Versailles by overlaying garden plans onto footage of dancers from the New York Baroque Dance Company.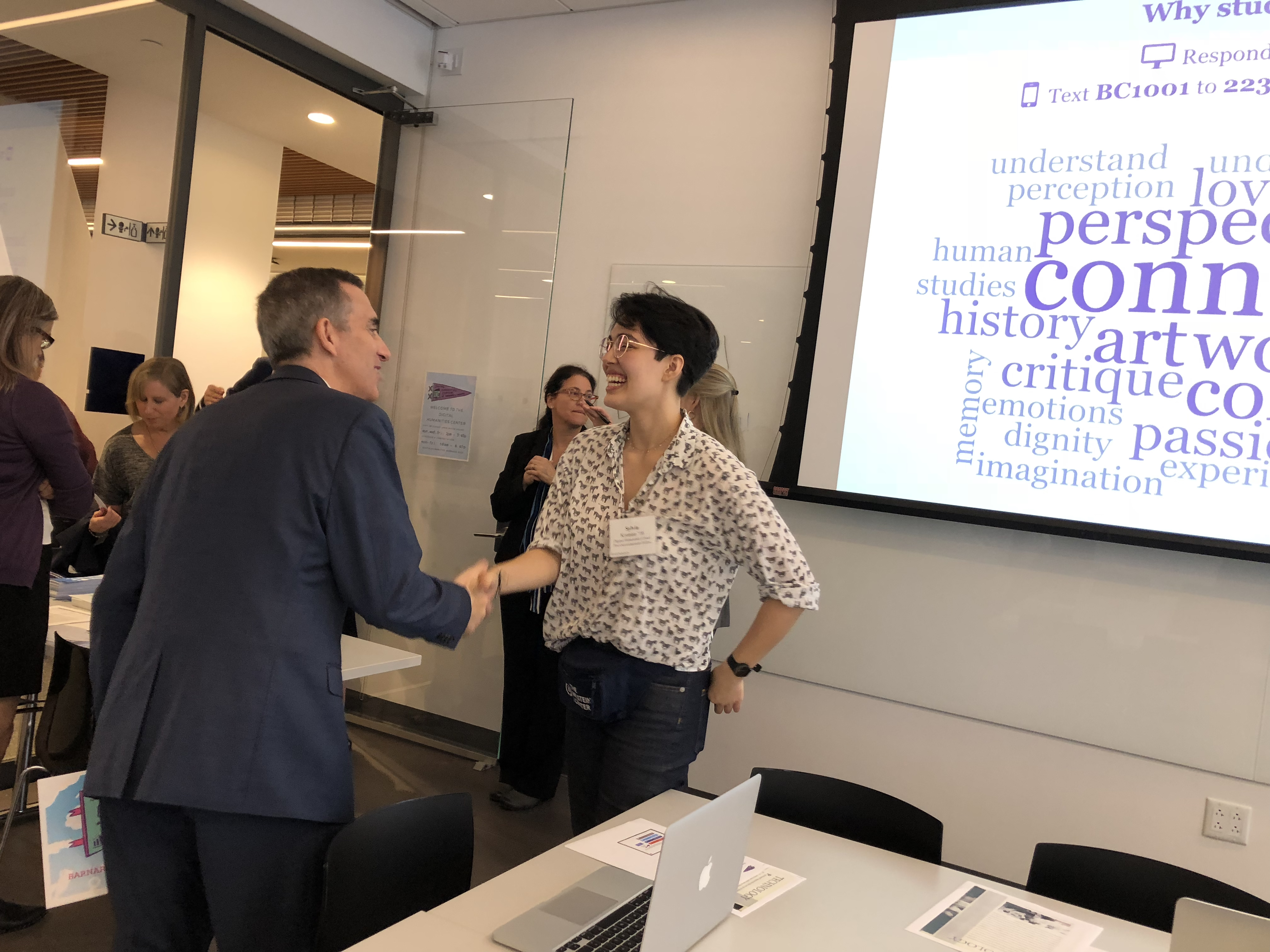 With the Milstein open for business, the DHC was ready to start doing what it does best -- working directly with students and faculty on DH projects. Overwhelmingly, Fall 2018 was the Semester of Scalar at the DHC. We ran four workshops acquainting students in Professor Elizabeth Hutchinson's North American Art and Culture class and Professor Kim Hall's Ntozake Shange & Digital Storytelling class with Scalar, a digital publishing platform from the Alliance for Networking Visual Culture (learn more about Scalar here, on the ANVC site!). Scalar is cool because it's customizable, collaboration-friendly and supports all kinds of media, so Professor Hutchinson's class was able to post and annotate pictures from an exhibit of Native American art at the Met Museum, and Professor Hall's class was able to create multimedia digital exhibits engaging with the work and life of poet, playwrite, and Barnard alumna Ntozake Shange.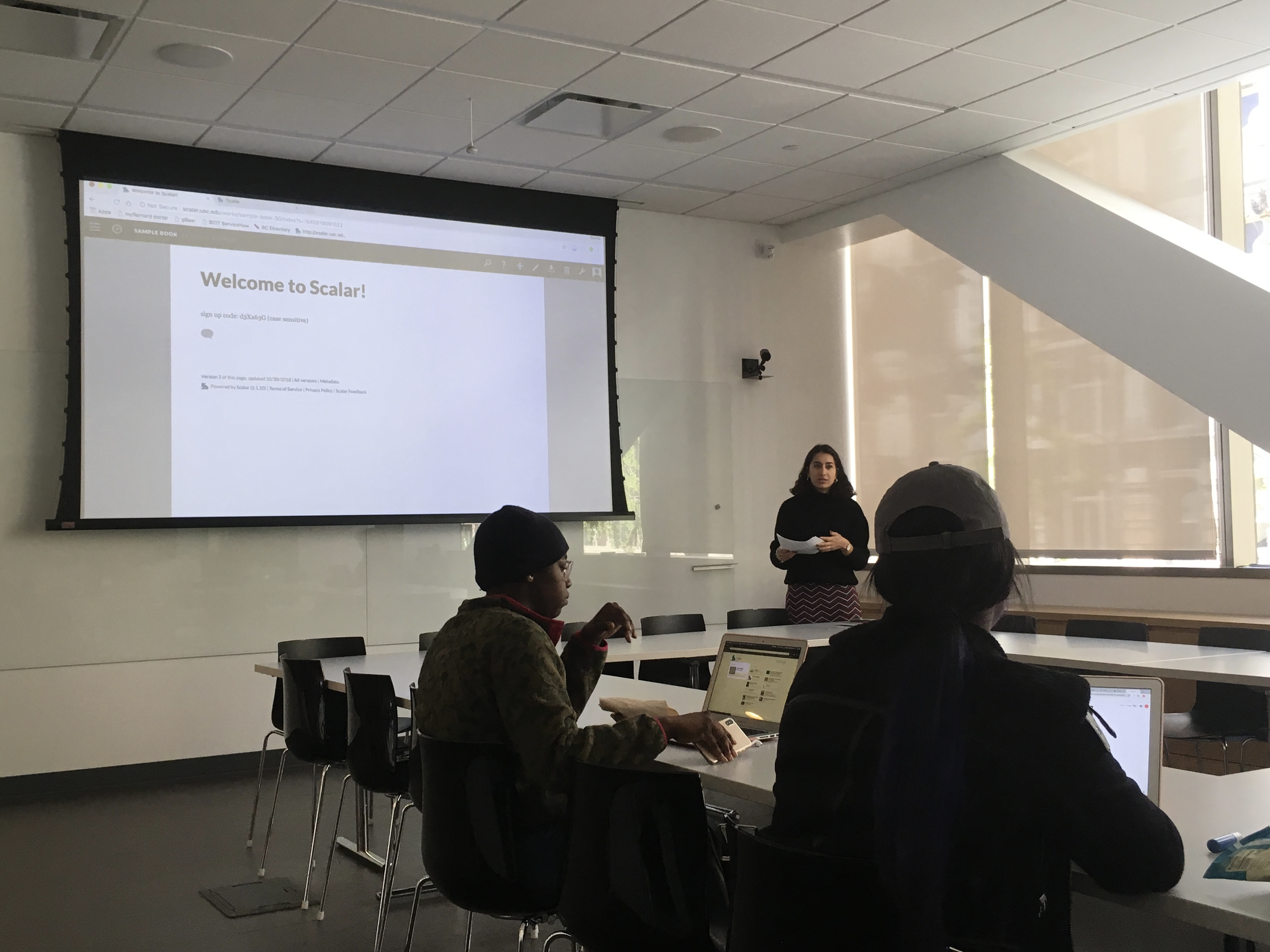 Next semester in the DHC, we'll be adding more public events, including a workshop series on data privacy led by our own Digital Scholarship Librarian, Madiha Choksi, so watch this space for more info on how you can lock down your online info. Also, you should watch this space for more posts from me, Sylvia, our Postbaccalaureate Fellow! I'm going to be checking in weekly to talk about tools and events in the wide world of the Digital Humanities - I hope you'll join me!